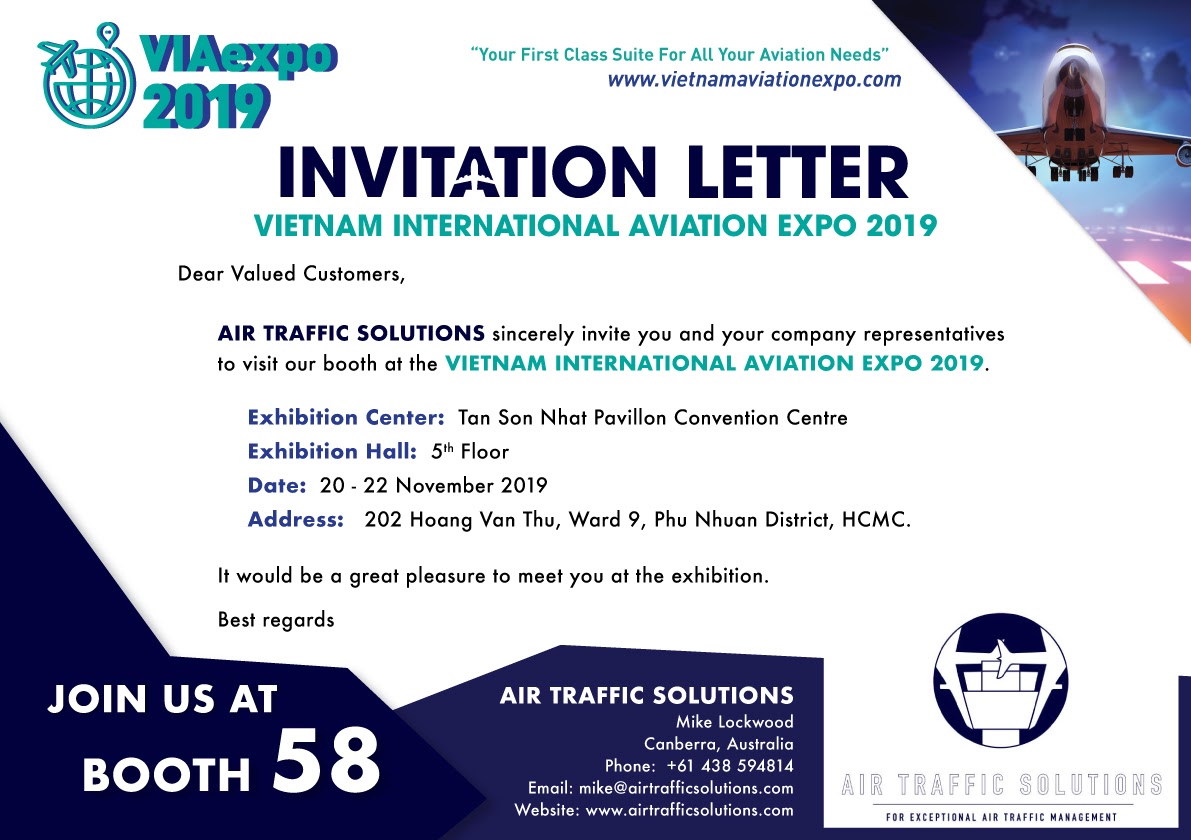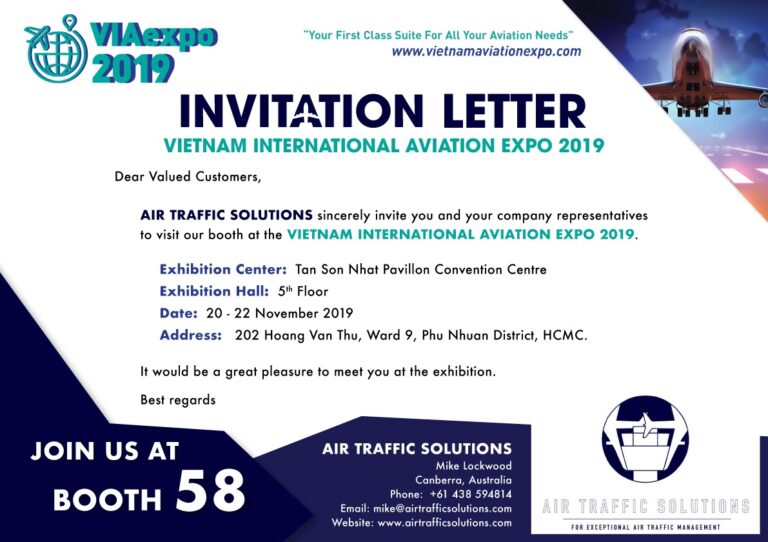 Canberra, ACT– Air Traffic Solutions, a well-recognized aviation company, is happy to announce its participation in the 1st annual Vietnam International Aviation Expo 2019 which will take place at Tan Son Nhat Pavillon Convention Center from November 20-22, 2019. The event promises to offer a holistic business experience by combining exhibitions, conferences and seminars, and a host of networking sessions that connects quality buyers to aviation & aerospace supplies.   
Air Traffic Solutions has always strived to keep abreast of new technological resources in the aviation industry, and its participation in the convention aims to strengthen its assets as well as to have the chance to share them with other attendees.
Air Traffic Solutions is an Air Traffic Management Company dedicated to facilitating efficient, safe, secure and responsible operations for the aviation industry worldwide. This prestigious company contains highly experienced professionals including airspace specialists, safety specialist, system engineering specialists, airport specialists and more. Throughout their years of service, the company has built an impressive portfolio of clients such as PA Consulting, ARUP, Pegasus Aviation Advisers, Australian Government-Civil Aviation Safety Authority, Segar, etc.
About their vast experience, the spokesperson for Air Traffic Solutions says "Our team of experts has undergone extensive training, including operational 'on the job training' and Workplace Assessor Qualifications. This has allowed us to deliver high-level training, service and consulting of Air Traffic Management to our clients. Stationed throughout Australia and the Middle East, we provide unparalleled services and solutions for our clients worldwide. In addition to the core team at ATS, we have a number of highly experienced associates we can call upon for larger projects that meet our customer's specific requirements."
This company delivers a comprehensive range of Air Traffic Management Services such as airspace design, advocacy and lobbying, environmental impact studies, airspace studies, concept of operations development, procedures development, online training, safety management, system adaptation development, ATC Training Software for ab-initio Approach and Surveillance Training, system commissioning support and more. 
These air traffic experts from Air Traffic Solutions are located at 40 Murchison Street, Kaleen, Canberra, ACT, 2617 AU. For professional Air Traffic Management solutions, contact them via phone at +61 438 594 814 or via email at [email protected]. To learn more about their services, visit their website www.airtrafficsolutions.com